We are about as grassroots as its gets. It started with Judson's passion and love for the mountains. Judson wanted to share that with like-minded folks. Today his dream has grown into a successful operation and he is supported by a team of hardworking and passionate folks to help keep that dream alive.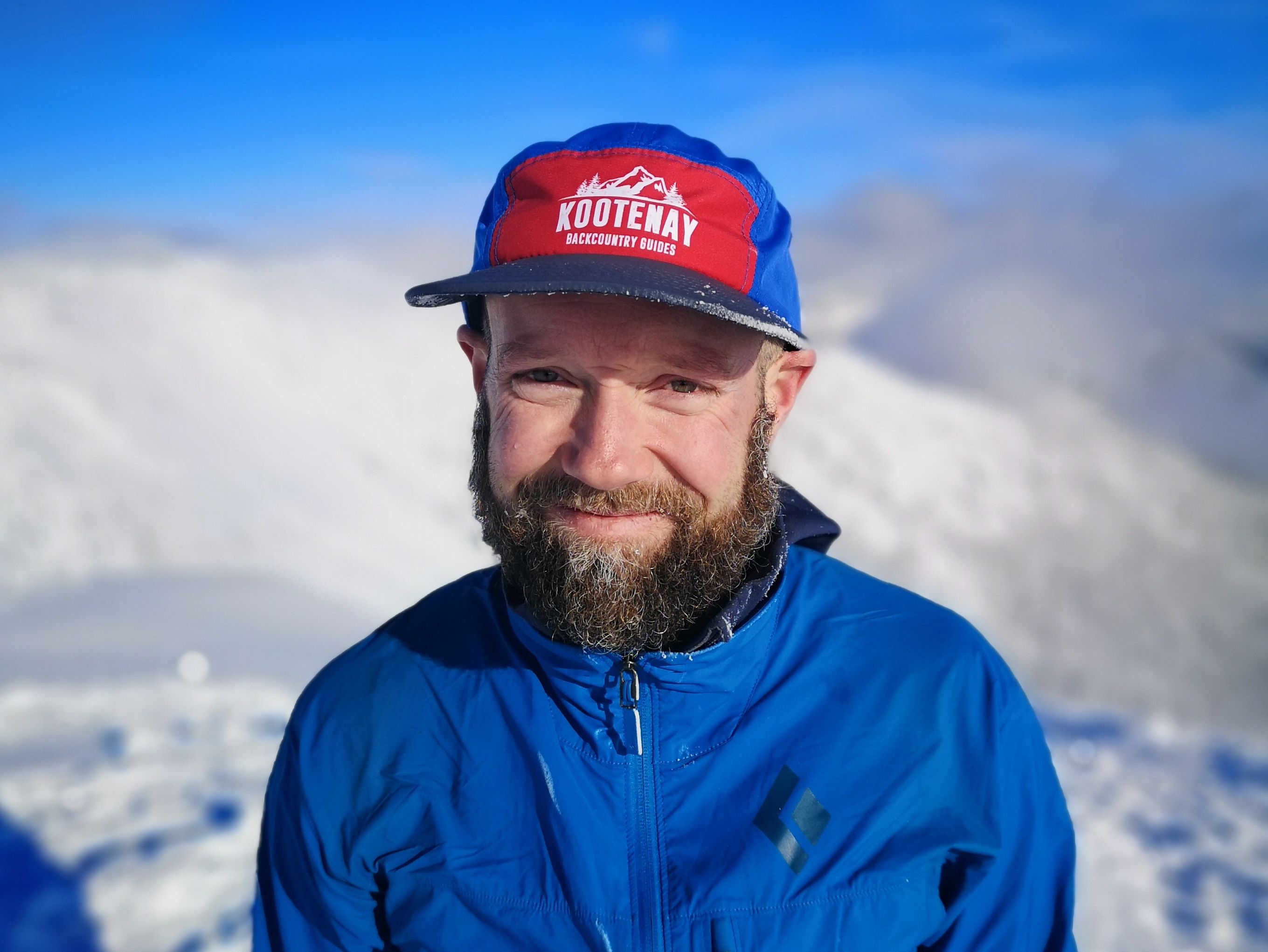 Judson Wright
Judson is the lead guide of Kootenay Backcountry Guides.  After finishing high school in Ontario, Judson moved to the Kootenays and started his backcountry journey. While learning to ski tour in the Whitewater and Kootenay Pass backcountry, the seeds of an idea to bring a local ski guiding operation to the Kootenays were planted in his head. He spent the next 10 years exploring the mountains of western Canada and getting his A.C.M.G. guiding certification. Over time Judson fell in love with showing others the incredible backcountry in his backyard.  In 2016 he officially launched Kootenay Backcountry Guides with a mission to increase safety in the backcountry and help others get the most out of their winter backcountry adventures.   
Learn more about me and my passion for guiding/instructing:
Cath Paone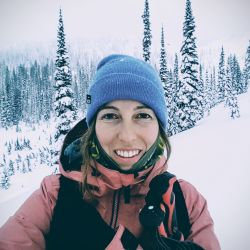 Cath's love for the mountains started the day she was born. She was raised on the slopes of Whistler Blackcomb, instructed at Grouse Mountain for six years, and fell in love with the Fernie champagne powder. Her love for skiing took her to Austria where she studied Alpine Tourism and to Japan where she lived out her JAPOW dreams. Cath and her husband moved to Nelson five years ago and plan to earn that local status. When she is not behind her computer, Cath can often be found playing with her dogs, mountain biking, backcountry skiing, snowboarding, or paddleboarding around the lake. 
Guides & AST Instructors
When you want to find the best terrain, the best lines, the best Kootenay backcountry experience, you want to find a local guide. All of the ACMG trained guides at Kootenay Backcountry Guides are from the area. They love the mountains here and want to share their passion for skiing and the Kootenays with you!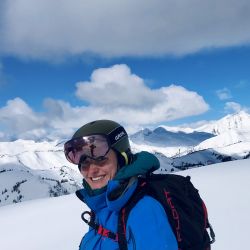 Anais Sloman
As a former Ski patroller on the coast, she could not be happier having left the wet cement behind to surf cold smoke instead - now living in the heart of the Kootenays and is stoked to have access to the backcountry from her backdoor. Gratitude is a given. She loves sharing her passion with like-minded people and can't get enough time with her clients. When not teaching for the Kootenay Backcountry Guides, she tail guides for Big Red Cats.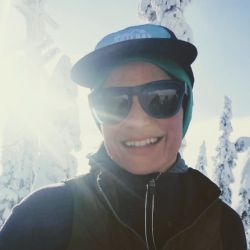 Audrey Wright
Audray Wright has been in the ski industry for 15 years. She set herself free from the nylon boundary rope in 2017 when she became an ACMG apprentice ski guide. Being a guide allows her to share her enthusiasm for the endless possibilities of ski and travel. Her love of ski touring took her to some remote locations here, in Canada, but also in the Himalayan and Caucasus Mountains, where the people are friendly and the skis straight. When she is not sliding on wax and water, she teaches mountain biking, works as a paramedic, and hanging out on the lake with her family.
Bruce Gardave
Bruce Gardave has over 25 years in the search and rescue field in BC. Bruce has taught avalanche rescue and mountain rescue with the province for over 15 years. Also, a certified CSGA Level 1 ski guide, Bruce guides for Selkirk Snowcat Skiing Snowcat in Meadow Creek. As a certified CAA level 2, Bruce loves to keep up on all the latest snow science and rescue techniques and pass them along to his students. Home for Bruce is Nelson BC where he lives with his wife and his son enjoying all the Kootenays has to offer.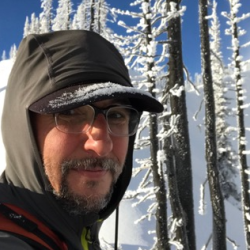 Dan Swearingin
Dan has been Ski Touring, Mountaineering, Alpine Climbing for 30 years and still loves every part of the mountains, and how small and balanced they make him feel. A Slocan Valley resident since 2005, Dan started his career as a Professional Ski Guide in 2011. He's been teaching Avalanche Course with Kootenay Backcountry Guides since 2017. Dans has been working with and shredding pow with Judson Wright for many years now and share the same philosophies in the mountains and in life. "There is room for all of us as long as we are aware of each other, and of ourselves. I believe strongly in Avalanche Education. The more knowledge we have, the more "Safe Fun" presents itself!"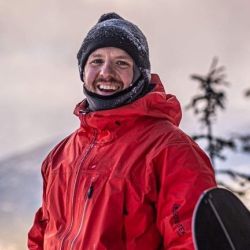 Hayden Manwell
Born and bred in the Kootenays, Hayden Manwell considers himself extremely lucky to have grown up in the outdoors, discovering his passion for the mountains at an early age. His love of snowboarding has taken Hayden all over the world, including many seasons riding and guiding in Japan, America, and New Zealand. Hayden's wealth of experience and his enthusiasm for sharing the stoke made backcountry guiding a natural fit. When he isn't wandering around the backcountry, you'll find Hayden mountain bike guiding, fly fishing, or out on the lake.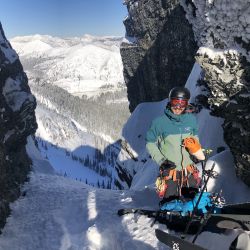 Jerome Levesque
Jerome is originally from Quebec and grew up ski touring in the Chic Choc mountain range. Over the past 12 years, he worked Ski Patrolling / Avalanche technician and tail guided for a cat ski operation around Alberta and British Columbia. This season, Jerome will be joining our guide team at KGB and he is thrilled to show you what the Kootenays have to offer. In his spare time, you will find him ski touring, camping, and adventuring around the Kootenays.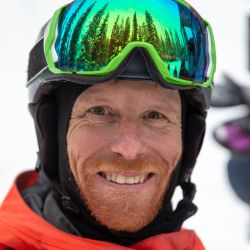 Joel McBurney
Equally adept on skis or a splitboard, Joel has been guiding snowy adventures for 20 years. In that time he has worked out of numerous backcountry touring lodges, heli-ski guided in the Selkirks and Monashees, and did a four-year stint as the head guide at Baldface Lodge. In summer he designs single track climbs for the Nelson Cycling Club. It seems his life is a continuum of smooth up tracks and long descents.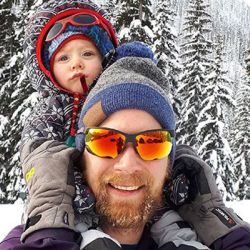 Kevin Armstrong
Kevin Armstrong is an Apprentice Ski Guide from Nelson BC. He has over 6 years of experience working at ski touring operations in the Kootenay Mountain ranges, ski patrolling, cat skiing, teaching avalanche education courses and avalanche forecasting. Originally from Ontario, he has an appreciation for icy conditions, though he prefers neck-deep coldsmoke and has been enjoying BC pow for the past 10 years. On the off season, he works as a Ministry of Forests Initial Attack Fire Crew Leader. He also likes climbing and road biking and recently participated in his first Gran Fondo. He lives in Nelson with his wife, Nashira, and their son, Mica.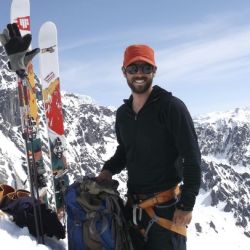 Martin Lefebvre
Martin grew up in Montreal and when he's not out in the hills he makes his home in KASLO BC. Martin learned to ski in the rolling hills of the Laurentians just north of Montreal. Like many other transplants to this side of the country, Martin was lured by the call of bigger mountains and deeper snow. After a few ski bum seasons, he started working in the ski industry and never looked back. His passion for ski mountaineering has taken him all over the world in search of classic and first descents.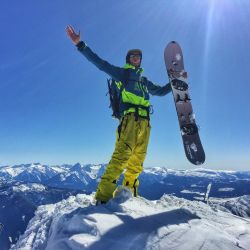 Michael Wigley
Growing up in the suburbs of Ontario, Wiggles, known to friends, made his move out to Banff in 2005. Relocating to the West Kootenays in 2006, basing mostly out of Rossland. Wiggles has splitboarded in 5 continents, his travels taking him to Chile, Argentina, India, New Zealand, Australia, Kyrgyzstan, Yukon, Alaska, Norway, and all over BC and Alberta. Currently pursuing his Assistant ACMG ski guide certification on a Splitboard. His worldly knowledge of mountains has led to a wealth of travel and terrain skills to learn from. Plus his main goal is to make sure you're stoked at being in the mountains. Finding ways to allow his clients to be present and truthful while out in the snow.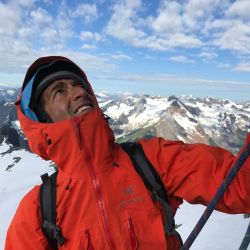 Ramin Sherkat
Ramin has been guiding in the Columbia Mountains since 1998, and an ACMG ski guide since 2004. Ramin is keen to share his love of the mountains with others. Safe, fun experiences are the goal and are sought after by establishing trusting relationships with clients via open communications and inclusive decision-making.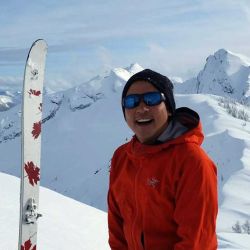 Roger Yim
Roger is a fully certified A.C.M.G. ski guide and professional member of the Canadian Avalanche Association.  Roger is a bundle of good times and great humour.  Two things Roger does really well are finding powder and cook incredible food.  Roger is a long time Kootenay resident who knows the area inside and out.  When not working for Kootenay Backcountry Guides you can find Roger at Retallack Lodge,  and Powder Creek Lodge.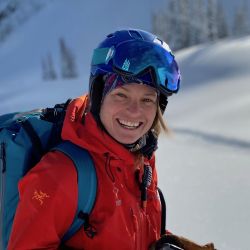 Tammy Lee Strauss
Tammy has over twenty years of experience ski touring, exploring, and adventuring in the backcountry. She has been a member of the Volunteer ski patrol for 18 years, a mechanized ski guide for ten years, and has five years of experience teaching AST courses. Tammy is also a proud active member of the Canadian Avalanche Association.
Tammy's passions are skiing, climbing, mountain biking, and the natural surroundings of the environment. She enjoys spending time in the garden growing flowers and trying to keep up with her son. Tammy loves sharing her mountain enthusiasm and love for the mountains with others. Tammy believes in the power of education and enjoys being a part of the KBGuids as an educator. In the off-ski season, Tammy is an environmental technologist by trade and an extreme momma with a backpack full of band-aids and treats at all times.