The Kootenay Backcountry Guides Difference
Kootenay Backcountry Guides are the West Kootenay's local ski touring, splitboarding, and avalanche education experts. Our purpose is to enable you to access the backcountry confidently.  We offer tailored private and public tours, lodge trips, traverses, and basecamps from British Columbia's West Coast to Alberta's Rocky Mountains.
In addition, we help you gain skills to plan your adventures with our avalanche skills training courses and our exclusive Backcountry 101 courses.  Our guides are local, welcoming, and fun experts fully certified by the Association of Canadian Mountain Guides, the Canadian Avalanche Association, and the Canadian Ski Guide Association.
The picturesque town of Nelson, B.C. serves as our launching pad to a mountain playground just far enough off the beaten track that we avoid the massive crowds usually associated with popular ski resorts. Spend your days on the slopes exploring the backcountry of Whitewater Ski Resort, Kootenay Pass, or RED Mountain Resort. Spend your nights and days off-slope enjoying all of the incredible nightlife, dining scene and hot springs that the West Kootenays has to offer.  Let us help you experience the West Kootenays the way the locals do!
Kootenay Backcountry Guides is hiring ACMG Ski Guides, Aspirant Ski Guides and CAA professional members* (*CSGA/ACMG equivalent) to join our team for the 2022-23 winter season. We seek enthusiastic individuals passionate about guiding and sharing their skill sets to enable our guests to access the backcountry confidently.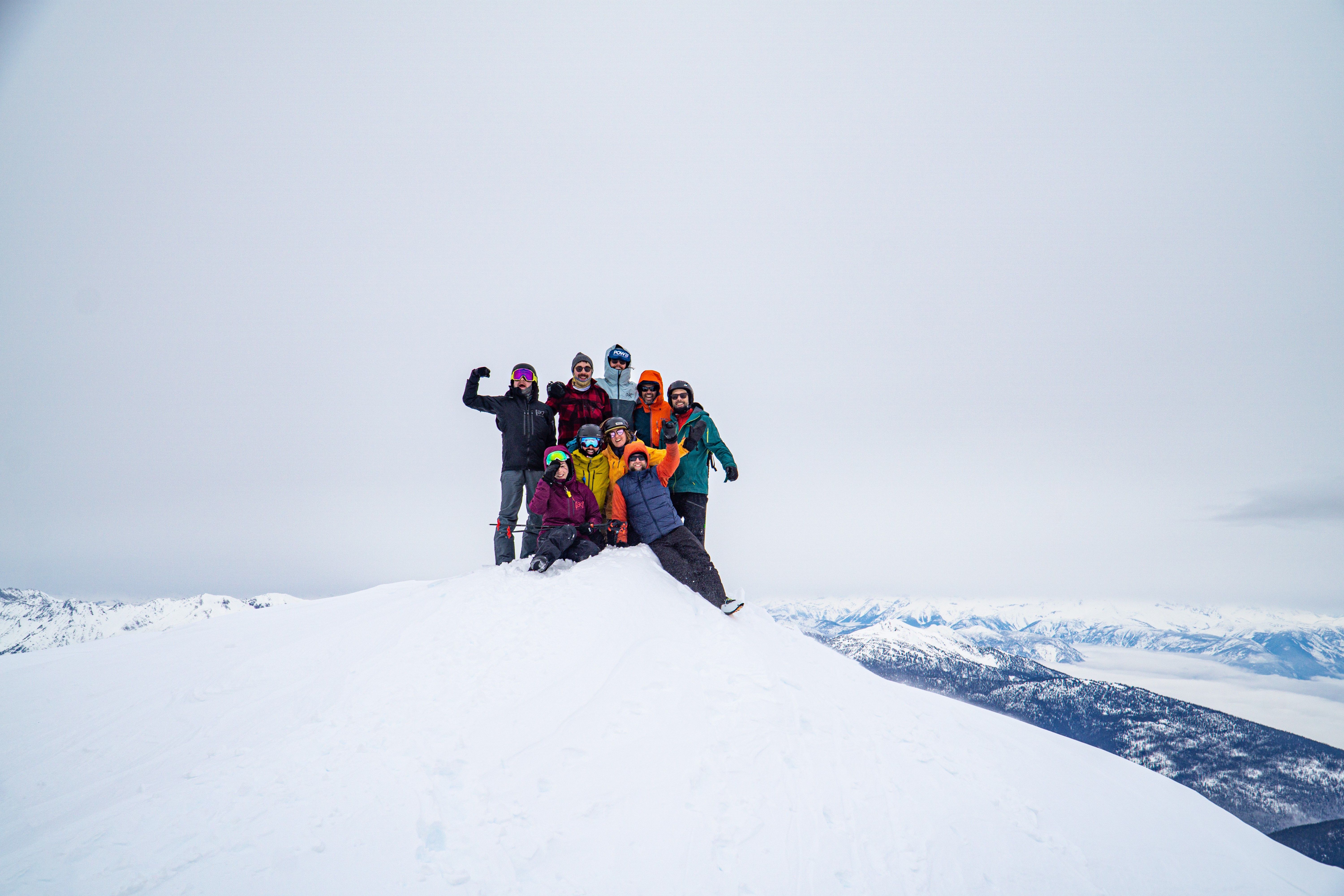 Kootenay Backcountry Guides, at its core, is about community. We believe in a strong community of like-minded people with the goal of information sharing to foster a strong supportive backcountry culture. 
We work closely with State of the Snowpack Nelson and Whitewater Ski Resort's Avalanche Forecasting team to provide the local community with valuable avalanche forecasting and backcountry travel tips. During the winter season, we gather once a month to provide our local community with a detailed local snowpack analysis, break down critical backcountry incidents, and discuss backcountry etiquette. 
In addition, Kootenay Backcountry Guides provide easily digestible local snowpack information through our YouTube and social channels. Visit our Resource webpage for more information about avalanche safety, gear reviews, snowpack updates, and blog.
Safety First, But Fun Is Number One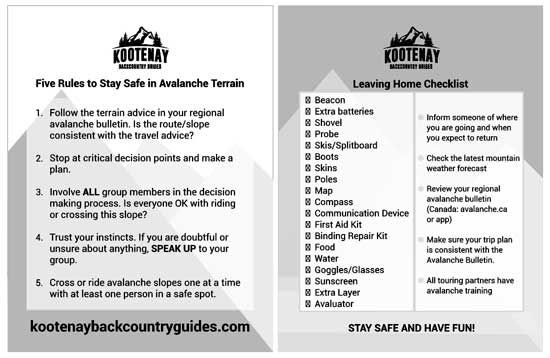 All of your guides at Kootenay Backcountry Guides are certified through the Association of Canadian Mountain Guides (A.C.M.G.), the Canadian Avalanche Association and the Canadian Ski Guide Association. We use our extensive local experience and the vast array of up-to-date avalanche and weather information to make our decisions. We carry communication systems, plenty of 1st aid and mountain rescue equipment, and we are trained in their use. Most importantly, we make group decisions and share our decision-making process with you. 
We are just as keen and stoked as you to have a good time in the backcountry. We will keep you entertained with our horrible jokes and epic tales of our adventures, plus we love to take any opportunity to teach and answer your questions. We look forward to showing you around our epic backyard and sharing avalanche safety tips and resources.