Guided Full-Day Excursion Tours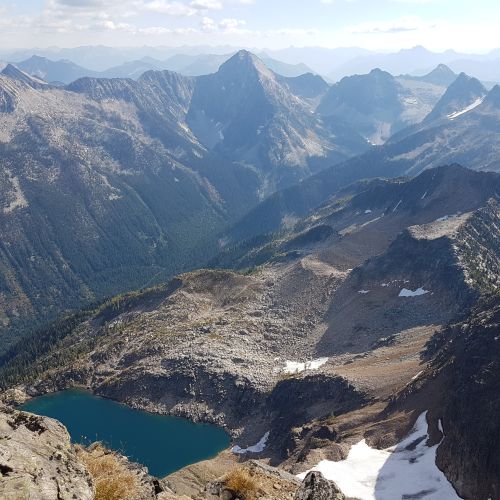 Get Out Of Town And Deep Into The Mountains
Our guides are all locals who know the best locations for hikes, waterfall viewing, and stops along the way to let you relax and take in the best the Kootenays offer.  On this adventure, we aim to take you to whatever location best serves your goals for your guided tour. Because your trip is private, you can choose how much hiking and wilderness exploration you wish to do!  Below is essential information to help you get the most out of this tour.
What Does "Excursion Tour" Mean?
These tours/hikes are all beyond a 1-hour driving distance from Nelson, BC.  

Depending on the fitness levels and goals of the group, we can still do big hiking days.

The excursion aspect is the travel time spent getting there and the length of the day. 

These tours are generally between 8-10 hours. We can do shorter tours if you wish. Make sure you communicate with us your group's goals for the day.

Sit back, relax, and take in the views while we will do the driving! We have a 7-seat AWD vehicle that comfortably seats a group of 5. Groups of 6 are possible, but it can get tight in the back. If you have a larger group, reach out, and we can coordinate to secure a passenger van.
Contact us for sample trip itineraries and locations.
---
Prices are based on per person per day (taxes not included)—minimum of two people in a group to book. We can provide transportation for up to 6 guests. 
$237 +tax/person
Included In Price:
Transportation (for up to 6 guests)

Pre-Trip Planning & Coordination

Locals Guide To The West Kootenay
How To Book
So you want to hire a guide to make your visit to the West Kootenay's/Nelson BC the best experience possible? We can do that and here is how. Please ensure you read through our booking process before reaching to ensure you have collected all the necessary information to make your booking.
At the time of your enquiring, please provide us with your date(s). This will allow us to work with our guides to find availability. By providing us with a couple of options upfront, we can reduce the amount of back and forth, and hopefully be able to follow up with some options for you.

To help speed up the process with your booking please ensure you include the following in your reservation: Names (first, last), Phone Numbers, and Email Addresses. This allows us to get your group set up in our reservation system and distribute the required pre-trip questionnaire.

Complete the Booking Enquiry contact form with all the above information. Remember if you provide us with all the information upfront, we will be better equipped to help plan your backcountry tour

Your tour is only confirmed once a deposit/payment has been made. As mentioned above, if you are booking for a group of two people or more the group leader will be paying the deposit/balance. We suggest that once the group leader has been quoted they collect the funds from each member. Kootenay Backcountry Guides will not accept payments from multiple people within one booking. 

After we have received your deposit/payment you will be provided with pre-trip instructions to prepare you for your day/days in the backcountry. This includes:

Pre-Trip Questionnaire (extremely important and must be completed at the time of booking by all group members)
Required Equipment List - go over your gear and ensure it meets our standards. If it does not, no worries we help you out with avalanche safety gear
Purchase Trip Cancelation Insurance (review our cancelation policy here)
Book your accommodation/transportation
Stay healthy! 
Add Kootenay Backcountry Guides (This email address is being protected from spambots. You need JavaScript enabled to view it.) to your email contact list to ensure you receive tour updates/important information
---
Before You Book...
View Waivers
Your guide will go over the waivers on the morning of your tour or course, and you will sign in front of them so they can witness. If you are under the age of 19 you will need to have your parent or legal guardian sign for you. 
Booking & Cancelation Policy
Each guest must familiarize themselves with the terms and conditions and the information on our website. By submitting, deposit, or payment, you agree to be bound by the terms and conditions below:
Fitness Levels & Ski/Split Skills
Having an appropriate fitness level for the trip or course you are joining is a critical component of mountain safety. Please rate yourself honestly and accurately.
---