Last Updated: April 23, 2021
Kootenay Backcountry Guides
Covid-19 Plan 2021/2022
Preamble 
Since 2016, Kootenay Backcountry Guides has been providing unforgettable powder skiing adventures to our guests from Canada, US and other countries.  We have had the privilege to share powder turns with many beautiful people, make life-long friends and work with some amazing staff.  Right now, more than ever, we appreciate all of you, our Kootenay Backcountry Guides riding crew!
As a result of the worldwide pandemic, we took the summer to re-evaluate how our courses are delivered, run guided tours, and still make sure you receive the same (if not better) unforgettable backcountry experiences. This has allowed us ample time to prepare a solid COVID-19 Response Plan.
We understand that many of you have questions and concerns regarding the current COVID-19 situation and how this will impact your upcoming travel and backcountry ski experience. Please know that we are taking all the necessary steps to be at the forefront of operating in a manner that adheres to all local, provincial and national guidelines and we are working closely with our Backcountry Lodge Association (BLBCA), Avalanche Canada, Whitewater Ski Resort, and other local businesses. 
We will specifically adhere to and enforce the following 5 principles:
Five Principles for Every Situation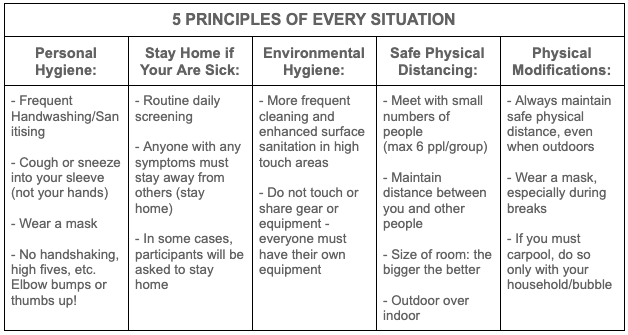 Physical distancing remains the most important criterion to comply with standing WorkSafe BC Updates and the Provincial Health Officer (PHO) Orders, but while the controls are listed in order of effectiveness, all of the controls should be considered, as they often work best in combination.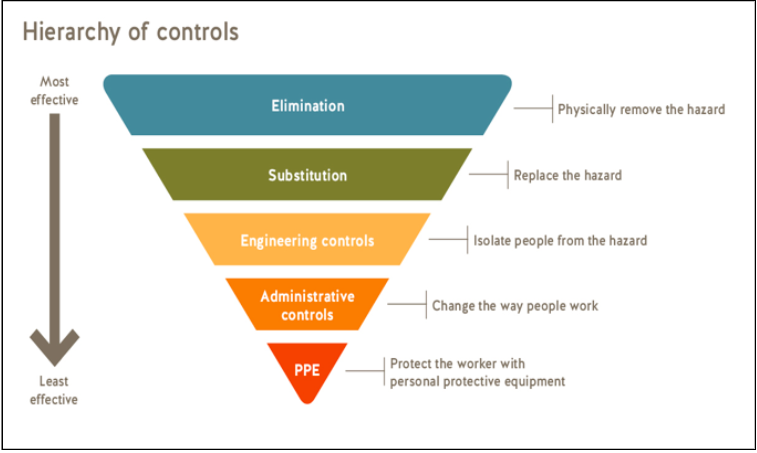 We are continually reviewing and updating our policies to make sure we are ready for you.  Any new information we receive will be passed along to you as soon as we get it and will also be posted on our website. You will receive a thorough email with all your pre-trip or pre-course info a few weeks before your guided tour or course as well. Please ensure you review our Booking & Cancelation Policy.
This document serves to delineate our approach for preventing the communal transmission of the COVID-19 virus while visiting Nelson, or participating in one of our scheduled programs during the current crisis.
Note that we feel we need to point out that, no matter how many precautions and measures are taken, we cannot guarantee with certainty that COVID-19 will not find its way into our community. We will do our very best to ensure that you have a safe and memorable backcountry experience. But, YOU must also do your part too! We ALL need to do our part by showing up healthy, minimizing our social contacts prior to the guided tour or course and strictly following the measures we have laid out in this document. 
For up-to-date information on COVID-19, please refer to BC Centre for Disease Control website (http://covid-19.bccdc.ca/).
Kootenay Backcountry Guides COVID-19 Policies
Physical Distancing:
Physical Distancing: 

Please do your best to always maintain appropriate physical distance of 2 meters whenever possible during all courses and interactions



Outdoors:

Courses are to take place outside with the exception of our hut-based courses. Please see our hut based PDF for details if you are on one of these courses. 



Masks:

With the recent announcements and increase in cases, we are implementing a

mandatory mask policy 

Masks shall be worn by Guides, Instructors, Clients and Students in any situation where a 2-meter social distancing is not possible. 

This includes but is not limited to: 

Companion Rescue Scenarios

Snow Profile & Hasty Pits

Map & Display Board Grouping

All Guides, Instructors, Clients & Students to provide their own masks.

It  is recommended that everyone have 2 masks on their person due to  possible

ice build-up on masks throughout the day in winter conditions.





Car Pooling: 

Car pooling is strongly discouraged at this time (unless it is with members of your household)

This also applies to all guides and instructors (unless it is with members of your household)





Skin Track: 

Guides/Instructors and Clients/Students are to maintain a 2-meter physical distance while on skin track. 

If anyone on skin track needs to blow their nose or spit, they shall step off of the skin track and let the group pass or create a 3-meter distance in front or behind the group when doing so. 
Environmental Hygiene:
Hand Sanitizer: 

It is recommended that all Guides, Instructors, Clients &  Students provide their own "Spray Pump Style" hand sanitizer, and keep it on their person throughout the course, and guided days.  
Personal Hygiene:
Conscious Self Health Monitoring: 

We will also be collecting detailed contact information for each guest that will be used for tracing purposes if necessary. 

All guides/instructors and clients/students must complete a COVID-19 Pre-Screening Questionnaire before their course/tour

It is understood by all guides, instructors, clients and students that if at any time during the duration of courses, and guided days, they are feeling flu like symptoms, that they will report this to their Guide/Instructor/office (1-833 -KBGUIDE (524-8433) 

Upon doing so our

refund policies

or Guide/Instructor replacement will be discussed.
ADDITIONAL RESOURCES
​BC CDC COVID-19 Self-Assessment Tool
https://bc.thrive.health/covid19/en
Province of British Columbia Restart Plan
https://www2.gov.bc.ca/gov/content/safety/emergency-preparedness-response-recovery/covid-19-provincial-support/bc-restart-plan#:~:text=The%20BC%20Restart%20Plan%20takes,of%20the%20Provincial%20Health%20Officer.
BC Office of the Provincial Health Officer
https://www2.gov.bc.ca/gov/content/health/about-bc-s-health-care-system/office-of-the-provincial-health-officer/current-health-topics/covid-19-novel-coronavirus
BC Centre for Disease Control Travel Recommendations
http://www.bccdc.ca/health-info/diseases-conditions/covid-19/prevention-risks/travel
BC Centre for Disease Control Self-Isolation
http://www.bccdc.ca/health-info/diseases-conditions/covid-19/self-isolation
WorkSafe BC: Accommodation: Protocols for returning to operation
https://www.worksafebc.com/en/about-us/covid-19-updates/covid-19-returning-safe-operation/accommodation 
Kootenay Backcountry Guides COVID-19 2021/2022 Booking & Cancellation Policy:
 The following refund policy will apply if Kootenay Backcountry Guides cancels your booking because of reasons related to COVID-19, or if you are prevented from completing your booking because of a reason related to COVID-19 that are outside of your control, including travel issues, closed borders, and local outbreaks. In such case:
If Kootenay Backcountry Guides must cancel, we will notify you as soon as possible via the email address you provided at the time of booking;
If you must cancel, you will notify us as soon as possible via email to 

This email address is being protected from spambots. You need JavaScript enabled to view it.

;
your deposit or final bill will be held by Kootenay Backcountry Guides credited to a booking at Kootenay Backcountry Guides for a later date. 
If you wish to have a refund instead of a credit towards a future trip we will provide a refund minus an administration fee of 25%. 
This refund policy, if enacted, will supersede any other refund and cancellation policy in these terms and conditions.