This Is What A Guided Cycling Tour In The Kootenays Is All About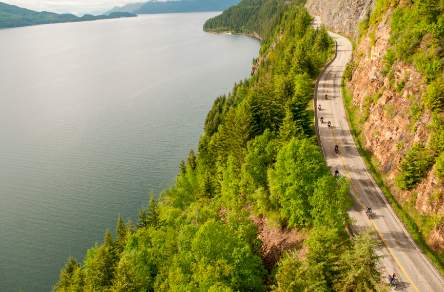 Cruising through stunning mountain passes, winding along the shores of pristine lakes, and conquering those epic climbs – the Kootenay region is a playground where road cyclists' dreams come to life. With charming waterfront towns, boutique hotels, and plenty of independent cafes and restaurants, the region is best savoured on two wheels. Discover for yourself why the West Kootenays are a cyclist's paradise
Back in early August, I had the incredible chance to lead an awesome day trip along the East Shore of Kootenay Lake with the fantastic folks from Kootenay Cycling Adventures. Let me tell you, I was stoked to share my love for road cycling and show off my backyard in a different season and sport.
The day kicked off with the sun still rubbing its eyes as I met my crew at the Hume Hotel at 7 a.m. Armed with a hearty breakfast, I carefully loaded up their trusty road bikes onto my rack, and off we rolled to catch the Balfour ferry by 8 a.m.
The ferry ride, with the mighty Kootenay Lake as our backdrop, set the mood for what was shaping up to be an epic day. After we docked, I led the way to a hill overlooking the charming Crawford Bay. This was the launching pad for a 65-kilometer journey tracing the enchanting East Shore of Kootenay Lake.
To make sure we were always connected, I handed out radios– a trusty backup when cell service played hide and seek. I became their support system, armed with a stash of mouthwatering lunches, snacks, ice-cold refreshments, and hydration to keep the wheels turning.
Around the 30-kilometer mark, we made a pit stop at Lockheart Creek, a hidden gem of a beach tucked away in a provincial park. Recharged and ready to roll, we tackled the next 20 kilometers, soaking in those stunning lake views as we pedaled, soared, and zigzagged along.
Somewhere around the 50-kilometer sign, a call came in about a bike hiccup. Thanks to our radios, we coordinated a rendezvous in a shaded spot, where I busted out a makeshift pit crew operation. Lunch was a spread of local bakery goodness and veggies plucked from my own garden.
With the bike glitch sorted, we pushed forward as the temperature cranked up – we were looking at a toasty 34 degrees Celsius. Powered by sheer determination, my gritty crew tackled the final hill, leaving Kootenay Lake in the rearview mirror and wrapping up the ride with a well-deserved ice cream pit stop, a full 65 kilometers from where we started.
Post-ride endorphins were off the charts – high fives flowed, cold drinks disappeared faster than you could say "refreshing," and a spontaneous dance through a sprinkler provided sweet relief. We soaked in the accomplishment before packing up for the return to Nelson, the memories firmly etched.
You can't just stumble upon cycling jaunts like these in the Kootenays; you need the expertise of folks like Kootenay Cycling Adventures.
At Kootenay Backcountry Guides and Kootenay Cycling Adventures, we create tailor-made private bike tours that span from day adventures to multi-day explorations, weaving mountain towns into your journey. Logistics? We've got you covered – accommodations, culinary delights, and top-notch bike rentals are all part of the package. We've mapped out single and multi-day routes on the most incredible roads you'll find anywhere.
Our local guides are your secret weapon – they know the roads like the back of their hands and have a knack for sniffing out the coolest spots. So, gear up for your next cycling escapade with us and let us handle the nitty-gritty while you soak in the thrill. Whether you're rolling with a duo or a crew of ten, we're here to make your cycling dreams a reality.
Don't miss out – join us this fall or hop onto the 2024 cycling season for a taste of Kootenay cycling like you've never experienced.
Catch you on the trails,
Judson
Stay Informed
When you subscribe to the blog, we will send you an e-mail when there are new updates on the site so you wouldn't miss them.