Working In The Avalanche Path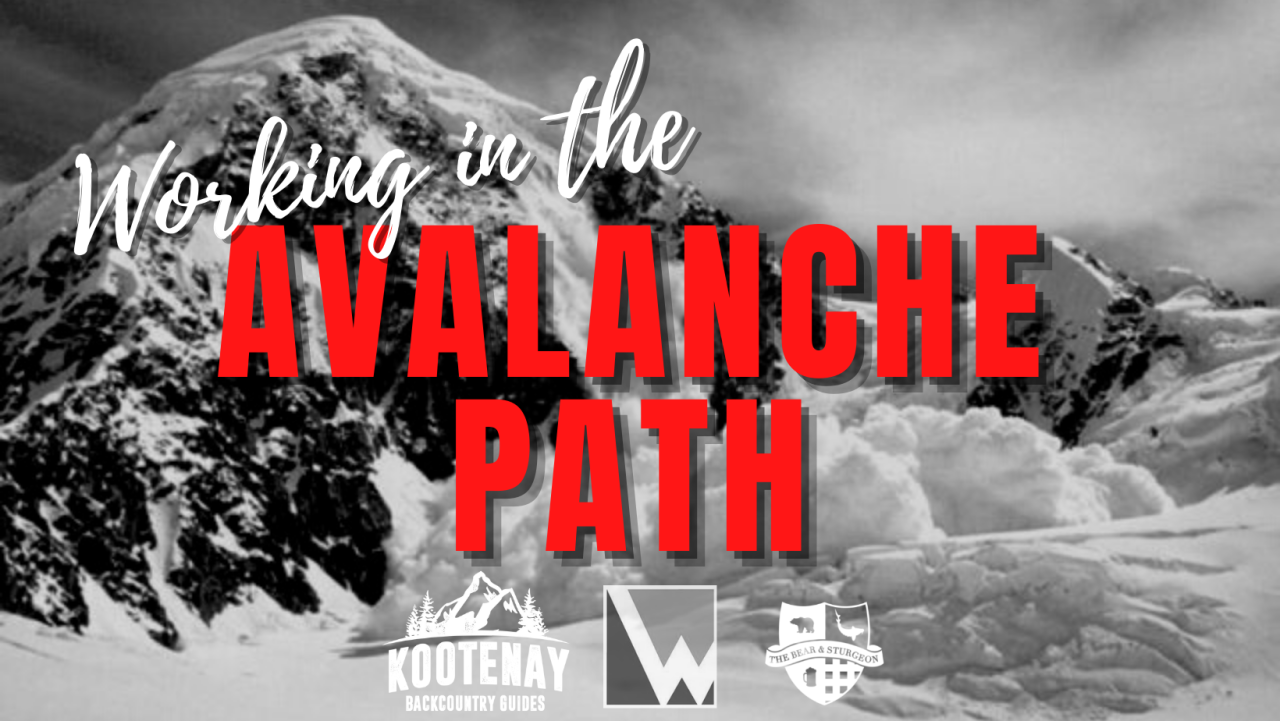 Kootenay Backcountry Guides partners with Whitewater Ski Resort's Shoulder Series events to bring you Working In The Avalanche Path.
Join us on the evening of Dec. 5th at The Bear & Sturgeon to learn what it is like to have a career in the avalanche path. From Guiding to Avalanche Education, Patrol, and Avalanche Technician Professional Fields.
Talks will center around the fantastic opportunities and challenges the avalanche and guiding professions involve. We will outline the certifications needed to enter various professional associations. You can meet and hear talks by ACMG Guides, CSGA guides, Professional Ski Patrollers, and Canadian Avalanche Association Professional Members. Mix and mingle after the discussions and have drinks with industry leaders.
Speakers
Judson Wright
ACMG SKI GUIDE, CANADIAN AVALANCHE ASSOCIATION PROFESSIONAL
Judson is the lead guide of Kootenay Backcountry Guides. After finishing high school in Ontario, Judson moved to the Kootenays and started his backcountry journey. While learning to ski tour in the Whitewater and Kootenay Pass backcountry, the seeds of an idea to bring a local ski guiding operation to the Kootenays were planted in his head. He spent the next 10 years exploring the mountains of western Canada and getting his A.C.M.G. guiding certification. Over time Judson fell in love with showing others the incredible backcountry in his backyard. In 2016 he officially launched Kootenay Backcountry Guides with a mission to increase safety in the backcountry and help others get the most out of their winter backcountry adventures.
---
Marc Deschenes
ACMG SKI GUIDE, CAA PROFESSIONAL MEMBER, CAA WILDERNESS EMERGENCY CARE – FIRST RESPONDER LEVEL INCLUDING HEALTH CARE PROVIDER CPR-C / AED
Marc is a certified ACMG Ski Guide, an Avalanche Professional Member of the CAA, an instructor for the CAA Industry Training Program and an industry Avalanche Safety Consultant. His passion for the mountains lead him into a ski guiding career now spanning over 30 years and includes ski guiding in the helicopter skiing, snow-cat skiing and backcountry skiing industry throughout various operations in B.C., including some short stints in Europe and New-Zealand. Marc is also involved in professional (CAA) and recreational avalanche safety education and training. During the off-season, Marc works as a geotechnical consultant in the forest sector. He lives in Nelson, BC with his two children.
Dan Swearingin
CSGA INSTRUCTOR & EXAMINER, CSGA BOARD OF DIRECTORS, CSGA LEVEL 3 SKI GUIDE, CAA PROFESSIONAL MEMBER, CSIA LEVEL 2 SKI INSTRUCTOR
Dan has been Ski Touring, Mountaineering, Alpine Climbing for 30 years and still loves every part of the mountains, and how small and balanced they make him feel. A Slocan Valley resident since 2005, Dan started his career as a Professional Ski Guide in 2011. He's been teaching Avalanche Course with Kootenay Backcountry Guides since 2017. Dans has been working with and shredding pow with Judson Wright for many years now and share the same philosophies in the mountains and in life. "There is room for all of us as long as we are aware of each other, and of ourselves. I believe strongly in Avalanche Education. The more knowledge we have, the more "Safe Fun" presents itself!"
Hayden Manwell
CSGA LEVEL 1 SPLITBOARD GUIDE, CANADIAN AVALANCHE ASSOCIATION ACTIVE MEMBERSHIP, CASI LEVEL 2
Born and bred in the Kootenays, Hayden Manwell considers himself extremely lucky to have grown up in the outdoors, discovering his passion for the mountains at an early age. His love of snowboarding has taken Hayden all over the world, including many seasons riding and guiding in Japan, America, and New Zealand. Hayden's wealth of experience and his enthusiasm for sharing the stoke made backcountry guiding a natural fit. When he isn't wandering around the backcountry, you'll find Hayden mountain bike guiding, fly fishing, or out on the lake.
Wendy Lewis
CAA OPS LEVEL 2, CAA PROFESSIONAL MEMBERSHIP, AVALANCHE CONTROL BLASTING CERTIFICATE, WORKSAFE BC, NON-URBAN EMERGENCY CARE LEVEL 3 & ADVANCED PROTOCOLS, BSC IN GEOGRAPHY, UNIVERSITY OF CANTERBURY.
Originally from New Zealand, Wendy began her career in the avalanche industry at 15 years old as a volunteer ski patroller. Since then she has worked throughout NZ, Canada, and the US. Currently, she is an Avalanche Forecaster for Whitewater Ski Resort and Avalanche Canada.
Julie-Ann Chapman
CAA OPS LEVEL 2, CANADIAN AVALANCHE ASSOCIATION ACTIVE MEMBER, WILDERNESS FIRST AID 80HR + CPR, CASTLEGAR SEARCH & RESCUE
Grew up in Montreal, started snowboarding at 15, was sponsored and moved out west to continue to snowboard and finish college in resort management. After a steep learning curve on the sled, I found a new passion. I started she shreds in 2011, it was the first all-girls snowmobile clinic in the world! I wanted to create a fun, happy, easier learning experience for women to learn how to get into the sport. When I started it was so male dominant sport. She Shreds now has 2 tenure applications under review, we offer clinics all over BC for both men and women, we offer sled-specific AST 1's, and occupational training. We also offer sled rentals. We employ three full-time lead guides and four tail guides..

Stay Informed
When you subscribe to the blog, we will send you an e-mail when there are new updates on the site so you wouldn't miss them.