Mountain Conditions Report - Wapta Bow to Yoho April 2023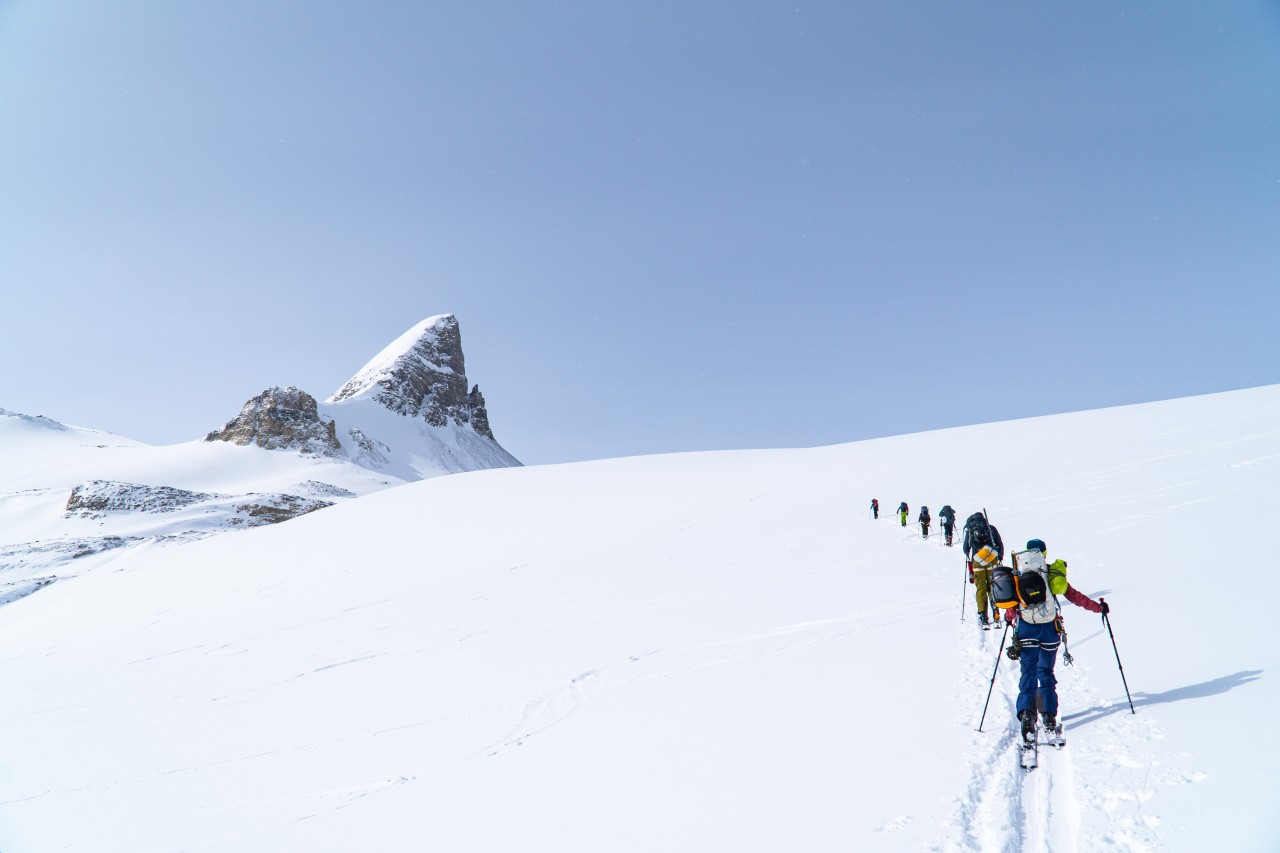 I recently completed the Bow to Yoho Traverse with practicum student Kyle Gorenko in 5-days with 6 guests. We traveled from Bow parking to Monarch Campground. The weather overall was favorable for fast travel, incredible views, and quality skiing, with pow to be found on East to Southeast aspects up to 3000m. Coverage on the glaciers was generally over 2.5m of P+ snow and surface conditions ranging from powder to hard-breakable wind affect as well as some spring-like conditions where sun effect was strong. Successful objectives were ski ascent/descents of Mount McArthur, an unnamed 2600m peak in the Kiwetinok Pass area, and President Pass.
April 16:
1 skier controlled loose wet size 1.5 below Isolation Col on a 38-degree slope, due South aspect at 2550m.
April 18:
Numerous natural loose wet up to size 1.5 below 2000m during the warm-up. During the trip, there was evidence of a previous natural cornice cycle to size 2.5, as well as skier-triggered cornice failures. Of note was one cornice failure size 2.5 off the E face of McArthur that appeared to be skier triggered. Occasionally cornices pulled out small pockets of windslab.
Temps ranged from a low of -20 at night to daytime highs of -8 in the alpine. Winds were variable in direction, light to non-existent with the occasional moderate gust. We experienced a mix of sun and cloud with cloud cover decreasing throughout the trip. Solar radiation was strong at times but cold temps limited the sun effect.
Avalanche Problems/Hazard
Our main concern throughout the trip was cornices, which we avoided in our travel plans. Loose wet avalanches were possible on steep direct solars during peak solar radiation. We started out forecasting for a windslab problem but were unable to find any, they likely facetted out due to cold temps. We came into the trip with a hazard rating of 2/1/1 and Moderate confidence, which improved to 1/1/1 with high confidence. On our exit day (April 18) this deteriorated to 1/1/2 due to daytime warming.
Surface conditions were highly variable. Up to 15 cm of faceted snow was found in sheltered areas and easterly slopes. Everywhere else wind effect was evident and ranged from breakable wind crust to rockhard wind-pressed snow. Below this, a supportive crust of variable thickness was present at all aspects and elevations.
The Wapta was in excellent condition, we wish you all safe and happy travels in your spring mountain adventures.
Note
The information provided in Mountain Conditions Report consists of field observations in specific mountain areas from trained and certified members of the above guiding associations who have recently traveled in these areas.
Ensure you always check with Avalanche Canada, and have the proper gear and training before heading into the backcountry.
Stay Informed
When you subscribe to the blog, we will send you an e-mail when there are new updates on the site so you wouldn't miss them.