2021/2022 Season Recap & Highlights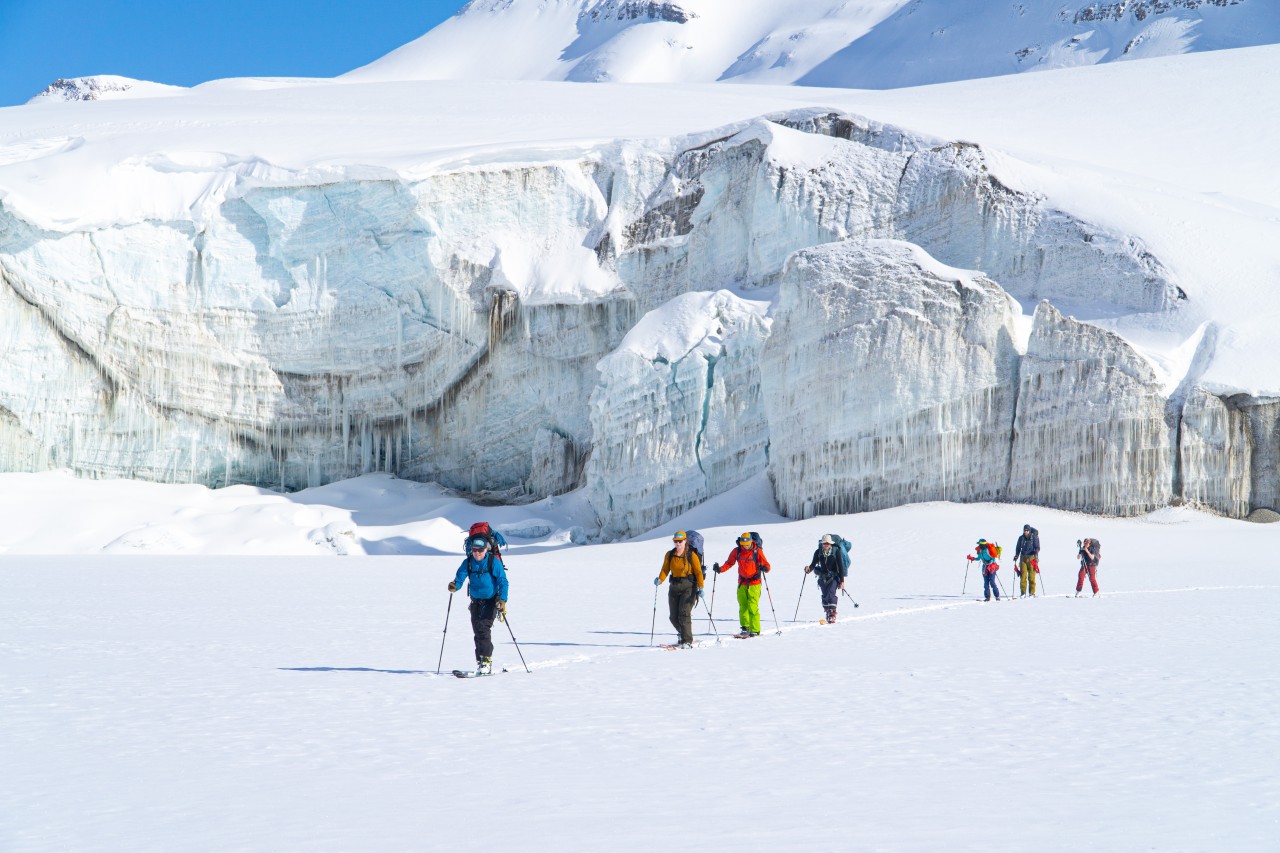 On April 18, 2022, Lead Guide Judson Wright with practicum Kyle Gorenko, and six guests hit the parking lot at the bottom of the Yoho Valley in Yoho National Park after completing the Bow/Yoho Traverse.
This hut to hut traverse concluded KBG's 2021-22 season.
We would like to take a moment and thank all of our guests and students for making this winter one of the best we have ever had.
The 2021-22 season represented a semi-return to normal for Kootenay Backcountry Guides and our guests. With Canada's borders opened up, many of our long-time international guests returned to B.C. for the first time in two years. Friendships were rekindled, smiles abounded, the powder was enjoyed, and beautiful vistas were shared. Covid rules were semi-relaxed, which allowed us to return to backcountry lodges and travel to places we missed during the height of the pandemic. We were able to do all of this while still providing our popular new and improved
AST courses
.
Below is a summary of our 2021/2022 season highlights...
Kootenay Backcountry Guides gets an office! Thank you, Ben Davies, Manager of the Savoy Hotel (and the team at Shambhala Music festival), for leasing us a space for our guides and students this winter.
We welcomed back students to our swanky new office teaching our first in-person course in two years.
Our first and newest course of the season was a Traditional Navigation Course, a 2-day in-person course. Students dusted off their maps and compasses, and went old school on this one! We will be offering it again early next season.
Return to sold-out AST courses in the early season. We stuck to our format from last season, which was composed of our highly popular online pre-learning. This allowed us to continue to give our students more days in the field getting hands-on experience
Powder returned to the Kootenay's Mid December.
On December 13th, we welcomed back our first international guests, and they enjoyed endless, bottomless powder. Thank you to the Robinson family for facing the uncertainty of traveling and joining us for a magical 4-days.
Between Solstice and the New Year, the Kootenays received over 200cm of snow with cold temps (aka endless, bottomless pow).
December was the best month for snow and conditions-wise of the whole winter. Best day ever was said many times. :)
State of the Snowpack returned as an in-person event at the Royal in Nelson.
We teamed up with Jill Weenink of Mountain Med Consulting to bring another new course. Our 2-day Backcountry Rescue 101 course was sold out and highly successful.
We completed our first AST-2 of the season.
Conditions were ideal, and the snowpack in Kootenays was deep (300cm in many places by early January).
In early January, Whitewater received 85cm of snow in 24 hours. This snowfall was the lightest and deepest 24-hour dump in recent memory.
By Mid-January the snowpack in the Kootenays was at record levels.
We hosted a private Lodge based AST-2 at a secret cabin in the Kokanee Range. This course represented our first time visiting a lodge since the pandemic. Stoke was high, to say the least!
We returned to a private lodge in the Goat Range and ran two sold-out Lodge-Based AST -2s.
One of the Lodge-based AST-2 groups was able to summit the 2900m tall Mount Brennan during their course. Their summit bid was followed by a 40cm dump the next day. (the group learned how to make decisions during low hazards in the alpine and high hazards during a large storm).
We ran our first-ever women-only AST-2.
High pressure set in, and we experienced our first draught of the 2021-22 season.
Fortunately, the avalanche hazard was generally moderate to low, and we were able to travel to out-of-the-way places we usually can not go to due to avalanche conditions.
We were officially sold out for the 2021-22 season in early February, and no longer took bookings.
Sadly this meant that we could not fulfill any last-minute booking requests.
We had two amazing private guided trips to a secret hut in the North Kokanee Range.
A sold-out Kootenay Combo got a surprise dump and experienced an incredible weekend full of powder and moderate avalanche hazards.
Sadly March started out with a rain event in the south Kootenays.
Luckily the rain was followed by subsequent storms that improved the conditions.
The low to moderate avalanche hazard meant the excellent travel conditions allowed groups to ski lines that are usually inaccessible due to hazards.
We contributed to the first every Kootenay Splitfest and ran a sold-out Splitboarding 101 course.
Excellent conditions returned to BC, and we experienced one of the best two-week stretches of touring of the entire season.
We had an incredible Five Day- Four Night helicopter basecamp in the North Monashees, North of Revelstoke.
We had six guests complete the Bow Yoho Traverse on the Wapta Icefield. We experienced mid-winter-like conditions with plenty of blue sky. Check out our MCR report.
The core purpose of Kootenay Backcountry Guides is to enable people to confidently access the backcountry through our safety-orientated fun-focused adventures and courses. Through this lens, we feel that our season was a massive success. We are looking forward to the next couple of months when we will be working hard to improve the company and plan as many adventures as we can for 2022-23.
We will be opening up for bookings in the 2022-23 season in the next couple of weeks. This is your heads up to start planning, prepping, plotting those winter goals. Fill out waitlist forms for next season to make sure you don't miss out!
Stay Informed
When you subscribe to the blog, we will send you an e-mail when there are new updates on the site so you wouldn't miss them.